A walk through the Black Forest
Our addresses, discoveries and personal favourites around Donaueschingen
In the heart of a Forest of Legends
Donaueschingen—like Freiburg im Breisgau—is not, strictly speaking, geographically part of the Black Forest. But both cities are gateways and guardians. At the edges of the forest. One to the east, the other to the west, each on either side of this mythical region that attracts thousands of visitors from around the world. The delineation of the Black Forest depends highly on what one is looking for: the area officially classified by UNESCO as a biosphere may be precisely demarcated, the lines of the cultural, culinary and historical areas are somewhat blurred and vary with time and history. We are in no way attempting to give you a comprehensive guide to the region: you will find dozens of these, in all languages, in the travel section of your favourite bookstore. But an impression, subjective and based on our very own AILLEURStheblog standards, to accompany you and suggest itineraries and places that we liked. It's up to you to pick and choose and do whatever you wish without, however, ever hesitating to send us your comments, discoveries and suggestions!
Our article on MUSEUMART.PLUS allowed me to explore this part of Swabia for the first time. Knowing that it is just two hours from home, I have all the more regret (and all the fewer excuses) that I did not make the journey sooner. In order to get there, I of course had to follow, on a bright April morning, the bleak A1 motorway towards Basel before turning east, a little before the Roman ruins of Augusta Raurica, and continuing along the Rhine. It takes a lot of imagination, of which I seem to have quite a lot, to see the charm in the ugliness of the riverbanks built-up with industrial buildings. And so, with the sylphs, undines and spirits of the river under the trees still devoid of foliage in mind, it is in a decidedly romantic mood and Beethoven's piano concertos in the background (no, no Schubert lieder: it's too obvious) that I crossed many bridges, railroad tracks and customs posts before turning off to the east towards Donaueschingen. In this sense, my first encounter with the mythical Black Forest was a detour: I skirted the south before heading north along a landscape of fields and meadows with horses. Scattered along the road, a few conifer forests winked as I went past as a sign that the Black Forest was nearby. That they were its ambassadors and guardians. And, in fact, when I joined Cat, who spent most of her childhood holidays here, and we took the road to the west, I began to realize that the name Black Forest was not a creation of the Baden-Württemberg Tourist Office: it seems that the pine trees in this region are different; higher, more impressive, denser, and, especially, darker.
That said, I must admit that my first impression was rather mixed. Disappointment: I was expecting to find the Magic Forest of German fairly tales, enchanting and slightly disturbing. This forest is dark after all! Behind every tree, I looked for the Big Bad Wolf gobbling up Grandmother; I expected to stumble upon Hansel and Gretel's house at the turn of every path... But it wasn't to be. The landscape was much less picturesque than the Austrian Salzkammergut or the Bernese Oberland. The Vosges, perhaps, on a smaller scale. Certainly nothing spectacular at first glance. And not only because the lakes are black instead of blue and the geraniums are missing from the window sills. But then... slowly but surely, it begins, unannounced. No bells, no whistles, and no fanfare; it mesmerizes and captivates you, and instils itself gently in the imagination: the charm of a tiny baroque chapel perched on a hillside. Bursts of bare, menacing rock alongside winding roads. Trails of mist drawn out into long, ghost-like fingers clinging to the pine trees. And the dark farms with large shingle roofs, nestled in the heart of the meadows, surrounded by messy gardens full of poetry, blue lupines leaning against the openwork wooden fence or medicinal herbs laced around a stone bench in a tiny physic garden. Balconies and pediments of carved wood. Baroque crucifixes shining in all their gold or simple wooden crosses adorned with wildflowers laid out in bouquets with some candles. Small unassuming villages with irresistible charm. Little by little, the magic takes hold, we are mesmerized and, irresistible, nostalgia mingles with memories as the time comes to continue our journey and leave the Forest behind us. The atmosphere, much more than the landscape, is where the magic is.
When TREes become presence
Children-tales of Wonderland come to life...
A tiny chapel tucked on the edge of a hill
under the cloudy mysteries of an endless sky...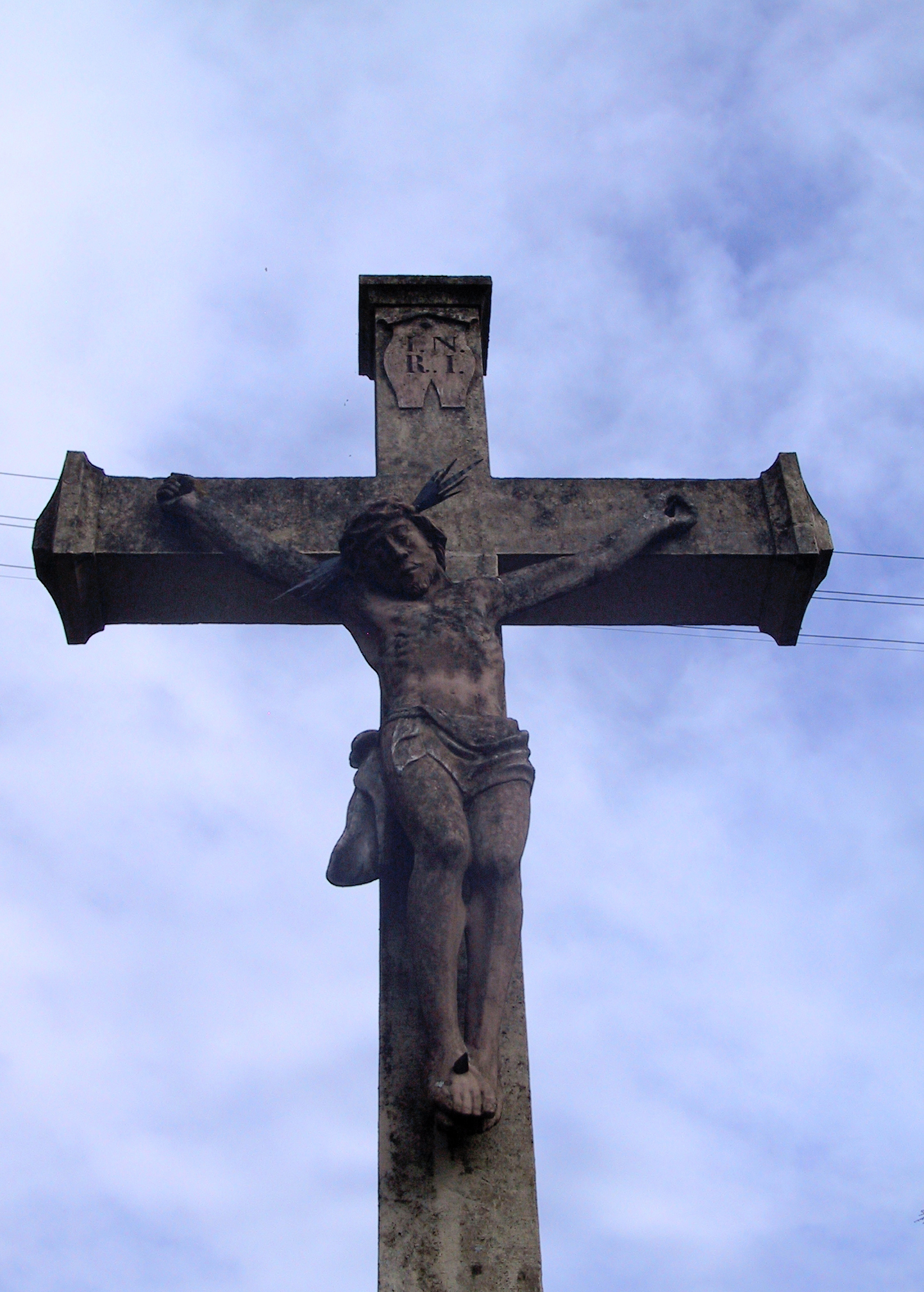 Donaueschingen: baroque, traditional beer, horses … and false source of the Danube
Our starting point was Donaueschingen, a town few home decorating magazines or travel shows have ever covered. Not even a short item. The Black Forest, absolutely, Freiburg im Breisgau, sure, but Donaueschingen?! Nice name, though. Reminiscent of Danubian Romanticism for the German speakers among you; totally unpronounceable for others, not to mention impossible to place on a map. At a push, a name reminiscent of horse shows, for enthusiasts. Or their military service for others, since it was a garrison town for French infantry troops until not that long ago. Historians and music lovers will associate it vaguely with a decaying princely palace and a very nice music festival. Connoisseurs will associate it with a traditional beer that has been brewed on site for a few centuries. But art, and, moreover, contemporary art? And yet: in this small town of Baden-Württemberg, slumbering in a jumble of charmless concrete buildings and German Baroque, neoclassic buildings renovated in the late 19th century and houses straight out of the fairy tales of the Brothers Grimm, there is an exceptional, superb, shining jewel. Timeless and unique. Vibrant with light and colour, daring and passion, talent and vision: the Art.Plus museum. [link1_Doc1 : MUSEUMART.PLUS] The perfect starting point to immerse oneself in the tales and legends of Swabia and its romantic landscape of lakes and forests.
The city may be disappointing with its hotchpotch of old houses and 1970s buildings, but it is very much into chocolate Gugelhupf: explosions of gluttony concealed in a rather boring dough, with improbable nuggets full of charm at the turn of a street. The old princely stables. The nonchalant romanticism of the castle park. City gardens brimming with flowers. A rococo church, as expected, flamboyant. A street off the train station with pretty façades typical of the early 19th century, very subtly restored. The 'source of the Danube' that isn't but which, ancient river god, is set in a circle of stones and messy Baroque wrought iron and would be a pity to miss: especially because of the tradition, as for the Trevi Fountain and so many wells and fountains around the world, to toss a coin and make a wish. Who would risk not seeing one of their wishes come true, providing, of course, that the local deities, naiads, newts and other spirits of the Water, are willing to grant it? Not me…
Luxury Baroque case where Sylphs and the Spirits of Water whisper long-forgotten secrets...
Our comfort, charm and gourmet addresses in and around Donaueschingen
In Donaueschingen itself, a traditional restaurant full of charm, robust and tasty old-fashioned cuisine. The perfect place to savour the specialties of southern Germany's cuisine, across the street from the museum: restaurant Baader Schützen.
The few hotels in town are, in contrast, often dull, old and uninspiring. Soulless at best. Stay here only if you need a base to travel around the area. There is a clear need for a charming hotel, bed and breakfast or boutique hotel. The same can be said of the restaurants, in all honesty, with the exception of Baader Schützen. However, a few kilometres from the city centre, we discovered a great place: Die Burg, in Aasen. Hotel and restaurant, in a small village with traditional half-timbered houses, a 10-minute drive from the centre of Donaueschingen. The hotel itself is modern, airy and very bright, but not really charming: the decoration is practical and utilitarian. But the rooms are immaculate and quiet. The quality of the bedding and the well-designed bathrooms with enough space that you don't feel like you're showering in the closet, which seems to be the norm more than the exception these days, deserve a special mention. Delightful and attentive service. Airy dining room, dominated by blond wood, without character but pleasant and opening onto a pretty patio with a view of the countryside and the surrounding wooded hills. Parking spaces are available and there's a wine bar on the ground floor where you can taste vintages from southern Germany and elsewhere, chosen with care, expertise and passion, with a clear focus on biodynamic winegrowers. The restaurant is very nice and run by the brothers Grom: Jason, the chef, heads a team as young as talented, and Niklas runs the dining room and is also in charge of the cellar. A family story: the two brothers are proof positive that value does not come with age but that talent is often passed down. Their parents ran a restaurant and the two boys started in the business at a young age: trained first at the famous Hotel Öschberghof, a classic restaurant in Donaueschingen, then in Switzerland and Austria in renowned five-star establishments.
Contacted two years ago by an entrepreneur from the region wishing to create a venue that combined comfort and food, they opened Die Burg in September 2017, and were immediately successful. From the outset, Jason was committed to showcasing the culinary heritage and local produce by reinterpreting it with the talent and mastery already the hallmark of a very young chef destined to become one of the greats. A unison of impeccable technique and precision, creativity and a flair for tastes and flavours as well as regional resources and culinary traditions that make your taste buds and plates dance to creations that are both classic and full of creativity. Together with Niklas's impeccably stocked cellar of wines and liquors. Here too, the focus is on local products and producers. Their motto is everything it promises to be: 'Flavour, Authenticity, Quality'. The opportunity for real and beautiful discoveries. Jason Grom's rewriting of 'Bauernküche', peasant food, and local recipes are worth the detour: traditionally smoked Black Forest ham on a bed of warm cabbage and new potatoes in herb sauce, served with a light and fresh Chardonnay made not far from Freiburg im Breisgau. Fresh pasta with spring mushrooms or trout ravioli. Superb beef tartare with seasonal herb salad. Legendary Sauerteig Brot appetizer served with sour cream and horseradish mousse: a delight of simplicity and flavour. Like some Chinese recipes (or some peasant soups to which new ingredients were added to an often ancient base recipe, cooked, recooked and stewed), which use decades-old ingredients, the sourdough starter can be several years old. That of Die Burg, carefully raised and passed down from generation to generation, is 30 years old, the age of reason... And the bread to which it adds character and flavour is absolutely scrumptious. Cheeses from the Black Forest. Desserts combining seasonal produce and gourmet lightness. With always, the red thread of the kitchen, reception and service: respect for the customer and emphasis on the products and local culinary tradition. A lovely place, really, that would be a shame not to discover during your stay in the region.
A bright setting and a warm, personalized service dedicated to the pleasure of gourmets and fine cuisine...
A history of pine trees, legends, funny hats... and cherry cake
There are several options to explore the region from Donaueschingen:
Culture, art and history – head to the small town of Hüfingen, enclosed in its ancient walls surrounded by water, to visit the StadtMuseum. Birthplace of a local celebrity, the painter and engraver Johann Nepomuk Heinemann (1817 - 1902), this adorable little museum, a townhouse built on an old mediaeval chapel and remodelled over the centuries, has permanent exhibition rooms dedicated to archaeology and local history, Heinemann's works, antique objects and furniture, as well as a series of small rooms reserved for exhibitions by local contemporary artists, all of which is worth the detour. If you have time after the museum, stroll around the high street, so typical of the cities of southern Germany, with its old houses, often half-timbered, white and ochre church, shops and numerous tea rooms (konditorei).
A few kilometres away you will find the oldest town in Baden-Württemberg, Rottweil. The old imperial city seems something straight out of a children's storybook, with its mediaeval façades, oriel windows, baroque churches and monasteries, its towers and walls. Everywhere, the silhouette of the chubby-cheeked peasant child, the Rottweiler, once a working dog used by butchers and miners, today on sale as plastic figurines, stickers, and postcards. The huge and ugly and utterly out-of-place ThyssenKrupp elevator test tower marks the horizon of small wooded hills with an aggressive 246 metres (why 246 and not 250 is not explained on the company's website. Mystery.). For amateur art enthusiasts (with nostalgia for sharp-angled metal sculptures so popular in the 1970s): the Erich Hauser Foundation's park and exhibitions, named after the local sculptor who lived and worked here for many years. Some of his works have been exhibited at MUSEUMART.PLUS.
More Nature-oriented, tourist and loden jacket – but also food and romantic walks? Our next destination is a few dozen kilometres to the west, back through Donaueschingen towards Freiburg. Titisee, a kind of 'operetta' village that has become a mandatory stop for Asian and American tour buses, is not necessarily a place you want to avoid (after all, the Black Forest is also an artificial folklore oversold by tour operators from every corner of the world), but a quick walk around the hotels and shops at the lake is more than enough. For a taste of regional wines, delicious seasonal dishes and pastel-coloured cakes, take the time to travel the ten to fifteen minutes separating you, by car, from the 'new' city, Titisee-Neustadt, to indulge in the exquisite selection of homemade delicacies in the delicatessen-cum-wine bar-cum-bistro bar at Feinkost-Villinger.
Continuing towards the west, we traverse beautiful forest landscapes: here it is, the dark and black forest of legends and tourist brochures! The pine trees, Cat repeatedly tells me, are really bigger, darker, more impressive than elsewhere... and I think she's right. The landscape is exceptional. A little disturbing at times, bordered on the south by black hills that skiers schuss down in winter. In the absence of snow, thick pine trees casing their slopes, they are almost sinister in rainy weather. Villages of finely crafted wooden houses, wide sloped roofs, beautiful chapels and old churches, orchards and pastures, amateur hikers will find suggestions for trails and excursions on the official website of Naturpark Südschwarzwald.
Among other things, there is a route dedicated to wildflowers and insects, another to traditional peasant gardens, a third to the cheese route, and even one to dairy farms, option 'special foodies'. Other suggestions for tourist routes (on the theme of wine, nature, hiking, historic villages) can be found at https://www.blackforest-tourism.com/Black-Forest/tourist-routes
.When ancient, eerie Fir Trees seem to be on armed duty to protect the Myths and Legends of the Black Forest..
The Christmas markets, particularly beautiful in this region, are likely to bring out your inner child as you browse the painted wooden toys, blown glass balls and Advent sweets: the most spectacular being, unquestionably, the market in the Ravennaschlucht at the heart of the snowy forest, at the foot of a railway bridge with high stone arches. Magical and enchanting.
Watchmaking is another regional tradition that has been around since 1850. The Black Forest, and you have no chance of forgetting it during your stay because it is absolutely everywhere, is home to the cuckoo clock (today also available in designer and fluorescent versions). For watch enthusiasts, the Watchmaking Museum in Furtwangen is worth the detour: https://www.deutsches-uhrenmuseum.de/no_cache/en/start.html.
And for hobbyists with a sense of humour or looking for an original gift: the colourful and cheerful creations of Waschecht-Todtnauberg. They clash a little with antique furniture, I must admit, but are perfect with ready-to-assemble Scandinavian furniture, or in the kitchen. Avoid putting it in the nursery, despite the bold colours, as well as winding up the clock: the noise generated by the cuckoo that pops out at fixed times is nothing less than unbearable!
The other regional symbol is the very special pompom hat worn by young girls from the village of Gutach (married women wear it with black pompoms... a real symbol!). It is so spectacular, so strange, too, with its huge red wool pompoms piled up in giant balls on broad-brimmed felt and long ribbons, so easily identifiable that it has become, thanks to the marketing department of the regional Tourist Office, a symbol available in all shapes and forms. Designers have also made it their own, often for the best: we loved the t-shirts, bags and sweaters of the duo behind the now cult brand [: blackest-forest:]. The slogan, unequivocal, under a skull with crossed bones topped with the famous hat: 'Schwarzwald underground style'!
Culinary discoveries, from north to south, are worth the detour. We have selected a few, keeping, of course, the best addresses and most delicious dishes especially for you:
Give honour where honour is due: pies, cakes and sweets, especially the queen of them, the famous Black Forest cherry cake aka Schwarzwälder Kirschtorte. A sin of self-indulgence based on kirsch-infused cherries, chocolate, sponge cake and whipped cream, proudly offered in every local konditorei. Special but not exclusive shout-out to the one served at the hotel restaurant Rainhof Scheune in Kirchzarten as well as the one served at the delicatessen restaurant Feinkost-Villinger in Titisee-Neustadt. You can also embark on a pastry comparison marathon by following the list established by discerning epicureans and gourmets: the list of best Black Forest cake makers.
Orchards have always provided the raw material for another local specialty: the distilling of eaux de vie, famous far beyond Germany's borders. Our selection of good addresses:
To accompany all this, try the Maultaschen (literally 'mouth bags'): ravioli stuffed with beef, pork or vegetables and cooked in broth. All the traditional restaurants in the region have their own recipe but they can also be ordered online at Manufacture RUCKs. And, of course, sausages, pâtés, terrines, streaky bacon and hams from the Black Forest. According to the connoisseurs we spoke with, one of the best pork butchers in the region, who works exclusively with meat from woolly pigs raised outdoors, is Walter in Oberschopfheim. At your forks!
In the mood for something sweet? The syrups, jams and jellies by Ireneus Frost in Freiburg, which also makes sumptuous balsamic vinegars with apple, quince, honey, bitter orange, Bourbon vanilla, elderberry and black tea, as well as mustards that are both spicy and fruity at the same time.
In terms of local non-edible products (yes, they exist): sheep farm Steinbrunnenhof makes a pure virgin wool that will delight knitters and animal lovers alike. All members of the herd live outdoors all year round (hence the exceptional delicacy and robustness of their fleece) on the meadows and pastures of the Black Forest, drink only spring water, and the ewes are sheltered in the sheepfold from February to April for lambing to assure the lambs get maximum care and attention. Steinbrunnenhof's pure virgin wool is also very famous in the region for its therapeutic virtues (superb apparently in relieving rheumatism) and as the perfect mattress filling for a healthy and restful sleep.
The last and very pleasant address to relax and enjoy the charm of the region: the hostel, wellness centre, bookshop-cum-delicatessen and cultural centre (yes, all-in-one!) Rainhof Scheune in Kirchzarten, near Freiburg im Breisgau. Former coaching inn on the road to Titisee, superbly renovated, it is an experience in itself. Each room, spacious, comfortable and full of charm and humour, is a small universe evoking its name and the world of the Black Forest: 'Garden Gnomes', 'Cuckoo', 'Edelweiss', 'Schwarzwald', 'Romantic', 'The Farm', 'Walks in the Forest'. Choose the rooms overlooking the back and the forest; they are quieter and give you the impression of sleeping outdoors, even if they're not as light as those overlooking the front and the road through the village. Small downside: most of them don't have curtains. It's great in terms of the light but not everyone likes waking up in the summer at 5am... and improvised DIY curtains made from bathroom linen wedged in the wooden window frame has a certain charm but is totally inefficient. I would know: I tried! Cat still has compromising photos to prove it...
Rainhof Scheune is a story of passion for a region and its heritage: historical, cultural, culinary. A local contractor bought the derelict building on impulse, renovated and completely transformed it, retaining its spirit and style. The building is huge, the structure of beams and whitewashed walls left intact and lovingly restored, using mainly wood, the characteristic material of the Black Forest. A traditional Stube-style restaurant or bar offers a small but tasty menu based on local produce and specialties, a wide selection of fruit cakes and pies, local wines and a sumptuous breakfast buffet. Upstairs, a large room under the attic for receptions and seminars. At the back, a lovely peasant garden, with benches and chairs to relax, read or daydream surrounded by fruit trees and flowers. A spa area enables you to unwind after a day exploring the surroundings or hiking the numerous trails that crisscross the surrounding hills: sauna, steam bath, massages (on request), lounge with fireplace in the impressive and warm space under the roof beams. Lounge chairs covered with comfortable blankets of new wool and sheep skins so you can rest most comfortably facing the forest landscape, revealed by a huge bay window. The place must be particularly magical in the snow, when the Scheune (the barn) is festively decorated for the traditional Christmas celebrations full of poetry, customary of southern Germany. For here reigns the king of the forest, the majestic pine tree: we are, after all, in the Black Forest, place of tales and legends, mist and giant trees, magical Christmases and trees protected like shrines, in these Catholic lands, of blown glass balls, painted wooden toys, oranges and apples, old-fashioned ribbons and delicate tinplate or tin decorations, and the smell of spices—cinnamon, pepper, cardamom and star anise—of mulled wine and exquisite fruit cakes.
Not to be missed: the remarkable bookshop-cum-boutique-cum bar, where, in addition to a large selection of books (unfortunately only in German ...) carefully selected by the bookseller in charge, you will find local products and crafts ranging from a comprehensive and quite remarkable selection of spirits, jams, herbal teas, jewellery, toys, chocolates, printed kitchen linens, charcuterie and smoked fish. Numerous presentations, dedications and conferences, always echoing the season, with an emphasis on authors and regional traditions. With, of course, the period of advent as the highlight: the opportunity to submerge oneself in the Christmas atmosphere while enjoying the comfort of a beautiful place. Permission to dream and relax granted.
Have a nice trip! May the spirits and elves of the Forest be with you.