Crillon-le-Brave*****: Luxury and Serenity at the foot of Mont Ventoux
It's actually a secret; a very special address that I give only to the people I love. An address that lovers of the place and its superb restaurants pass on to each other like a classified memo. It radiates such charm and joy of life that the memories you will leave with can be nothing but brilliant. Not to mention the know-how and professionalism, too. Top notch. Skilfully directed by Sébastien Pilat, the master of the house.
The art of managing the dream… and demanding customers
Perfection, however, is not of this world. Even so, in terms of hotels and places I love, Crillon remains at the top of my list. You would not believe me if I tried to persuade you... and you would be right. AILLEURS only tells you about places and exceptional addresses, this is true, but always with the critical reserve and level of excellence that define our brand. And so it was that my first stay in Crillon, a few years ago in the middle of summer, was in a hotel that had been fully booked by several groups of Anglo-Saxon tourists delighted to discover Provence, and employees that were on a war footing. Effective, attentive... but human. And so, between a porter in a bad mood (and showing it... he has since disappeared) and the somewhat stretched service at the restaurant that left us, my mother and me, waiting for someone to acknowledge our presence for a very long time, I fell into one of those rare moments of agitation that can, on bad-mood days (and, I admit, this was one of them) influence my judgment negatively and definitely. The service was professional but simply not up to the mark; an exception no doubt, of the place and its reputation. These things happen, as they did that night, and never since.
So why do I start my story about a special place that I am particularly fond of with something that was not up to scratch? Well, because it was unusual, and the reply I received to the discontent I expressed by email once I was home, was exemplary. I have gone back many times over the years, have stayed in just about every category of room, in every season, and can write this article with sincerity, having studied my subject in detail and from every angle. In true AILLEURS fashion. Above all, I believe, and I know you will agree with me, dear readers, that it is the way in which an incident or a problem is handed that says the most about the quality of the management and even the essence of a place, hotel, shop or restaurant. In this case, the issue was handled immaculately. Hats off to the whole team. And no hard feelings for this one-off glitch. The master weavers of Kashmir, who create marvels worthy of kings and queens, say that perfection can only be divine. That it is not of this world. This is why they always deliberately add a flaw at the heart of their creations. Out of humility. Let's say that the purpose of this little flaw on that day was to highlight all the other qualities of a place otherwise absolutely unique. A success. Almost perfect.
 
A story of light, vineyards, passion… and truffles
This flaw, which wasn't really one, out of the way, what can I tell you about Crillon-le-Brave that would allow me to have the pleasure of crossing paths with you one day, incognito, between the swimming pool and the stone vaulting of the former stables turned spa? So many things... Starting with the village itself, still enclosed in its walls, overlooking the plain that extends to Carpentras in a landscape of vineyards and cypresses at the foot of Mont Ventoux. A paradise for cyclists and hikers. A delight for writers and photographers, too: I spent hours there on numerous terraces of dry stones losing myself in the beauty of the landscape and the honey-coloured light of late summer or the baroque colours of autumn. Dreaming. Drawing. Writing. A magical place, basking in the shadow of a powerful and beautiful mountain, well known among amateur Tour de France cyclists. A landscape dotted with melodious or legendary names: Malaucène, Gigondas, Bédoin, Vaison-la-Romaine... A Provence more hidden, less known perhaps, than that of the Alpilles or Lubéron, but so beautiful, so preserved, a little harsher and all the more authentic. Villages long in a state of attrition and recently regenerated with taste and talent, just like Crillon. Small, sleepy towns with the sound of fountains and the shade of plane trees, in the summer lull. Exceptional winemakers, who make surprising and always excellent wines. Long stretches of brush on the rocky foothills where hunters know how to find the autumn game, the skilful reinterpretation of which you will have the pleasure of enjoying at Restaurant Jérôme Blanchet. A restaurant, I must say, that I still do not understand how it has not yet formally received the star it deserves from the Guide Bibendum, even in if it is no longer as quick to set the trend. Because this young cook full of talent and passion for his job with an impressive career knows how to sublimate the thousand and one riches of Provence's soil. A virtuoso with flavours, tastes and seasons, he dishes up a subtle yet skilfully crafted menu, a palette of rare technical virtuosity that meets true gastronomic emotions all year round. I have a vivid memory of a menu designed around the truffle, from the appetizer to the dessert. His carpaccio of sea bass with Espelette pepper, his garden snails in a crispy crust or his courgette flower stuffed with lobster are among the tastiest and most delectable discoveries I have made in recent years. A real delight for the gastronome and aesthete. No unnecessary extravagance, no bells and whistles, no frills, but real respect for product and flavour, superbly supported by an impeccable service. I must make a special reference to the small dedicated team under the attentive leadership of head sommelier Benoît Liebus, to whom I owe sumptuous and poetic discoveries drawn from the entire Rhône region. The breakfast buffet is a daily indulgence served on the patio, where you can enjoy the tranquillity and take in the landscape while savouring homemade jams and pies, scrambled eggs with bacon or impeccably smoked salmon and a choice of dairy products, fruits, compotes and bread – as well as the very pretty menu of the summer bistro, 40K, simpler but no less tasty, with products from regional growers. Its name, 40K, refers to the radius of 40 km in which the products used and highlighted on the menu grow. Particularly enjoyable on sunny days under the arbour.
The restaurants in Crillon-le-Brave: a certain idea of appiness and taste that we cannot but love and wish to discover...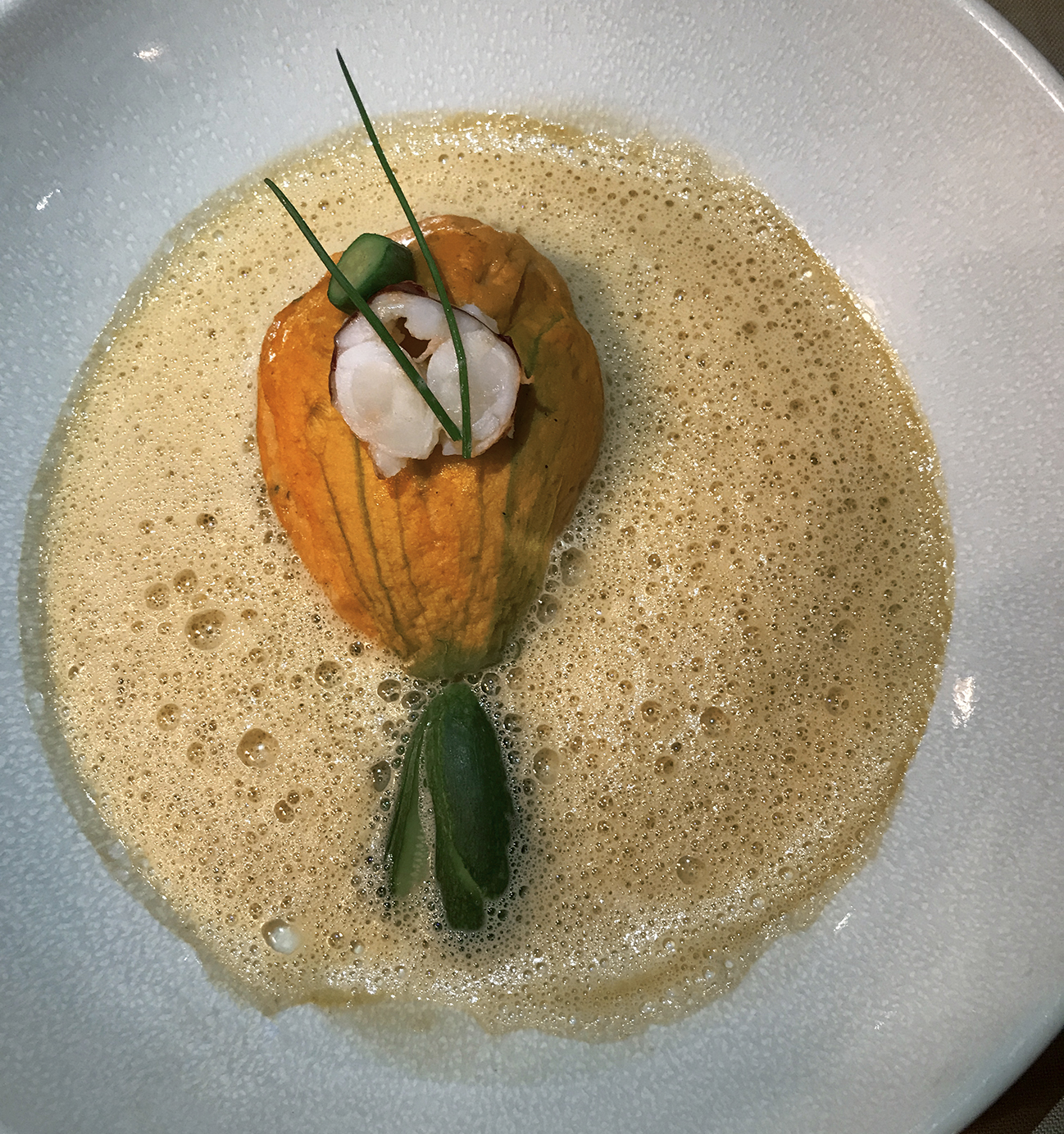 A serene concept of happiness
For more than 25 years, Crillon has been welcoming aficionados and enthusiastic lovers... me included. Crillon has a long history of loyalty, hospitality and craftsmanship, forged throughout the seasons since the beginnings of this golden stone vessel in the heart of a region that each season enriches in its own way. From the first house that was tastefully restored by a visionary and enthusiastic aficionado, the hotel has become, over time, a superb collection of buildings in the historic centre of a medieval village, encircling patios, gardens and a swimming pool (heated... you can swim until November, which, as someone who is generally cold, I am happy to confirm) in the light of this wonderful corner of France. Without ever giving in to a cliché or the latest fad, each house, each room, each suite, timeless and modern all at once, combines comfort and charm to create a serene décor in perfect harmony with the surroundings. The choice of materials, from the floor tiles and old-fashioned woodwork to the linen sheets and electronic equipment; everything fits perfectly between the old walls and roofs of red tiles. The bathrooms, large and bright, recently refurbished with luxury and pleasure in mind, regardless of the category of room. Whether it overlooks Mont Ventoux or the village, every room is beautiful. You can believe me: I am conscientious, I checked! Each one has its own charm and personality, and they all have an amazing view. But the ultimate luxury to treat oneself to on special occasions of shared happiness are the suites: sumptuous and ever so romantic with a fireplace and private patio. Starting with the most breathtaking of them, duplex, huge bay windows that open to the sky and the landscape, intimate and spectacular at the same time, a cocoon of unparalleled comfort and tasteful and poetically tenderly style... I must go back with a companion: the two bath tubs facing Mont Ventoux in the huge and bright bathroom are a dream so full of voluptuous humour that it would be a shame to test them alone...
A recent addition to the stables of Maison Decor, the spa is the perfect place to relax and enjoy one of the fabulous treatments, especially after a day of travelling or hiking or cycling on the small roads in the area. The talented and enthusiastic team at reception can recommend hiking trails and help you get what you need: do not deny yourself this pleasure. Take their advice; you will not regret it. I cannot but recommend one of the many theme weekends organized throughout the year around wine or truffles. Opportunities for timeless discoveries, to be continued at the restaurant.

It is no coincidence that Crillon has become one of the most prized secret addresses for weddings and other events that one wishes to be exceptional. I can tell you that, should I ever decide to take the plunge, it is in Crillon and nowhere else that shall marry. A promise: on that day, you will be privy to a front-row report in AILLEURS with photos by Cat Soubbotnik!
So there you go. My heart was set on sharing something very special with you in the inaugural post in the "Hotels" section of AILLEURS The Blog, and so I did. This is not only about a very beautiful house, but above all everything we love: a unique place, a haven of luxury and serenity, as well as exigency, talent and know-how. A great experience and a place that one wants to make known and share.
Allow me, however, to add one important detail: dogs are not only allowed but pampered. Which is rare... and appreciated. Goliath, my beloved wirehaired dachshund, loved the experience: the carpet at the foot of the bed, the bowl, the bone-biscuit as a welcome gift, the joy of being able to accompany me to the restaurant without being subjected to sneers and looks of disapproval. He wishes only to apologize to the charming young lady who, having not knocked hard enough, was visibly shaken by the flurry of loud and enthusiastic barking that greeted her when she entered our suite carrying a tray and a bottle of rosé. He solemnly promises to never again frighten her and to sit in front of the fireplace on her next visit. Promised. Dachshund's honour.